Ever thought that your site's imagery just doesn't feel right? Do you spend a lot of time adjusting each post image? We did too, mostly because all thumbnails get cropped right in the center, while most images are landscape or portrait. We built a plugin that solves all of this by allowing you to easily pick a focus point for your images, so that each thumbnail is properly centered around its subject. Works great for ecommerce sites, magazines, and blogs, and is compatible with virtually any theme.
Gone are the days when you had to manually crop or upload separate versions of your thumbnails. Now you can simply choose a point of interest for your image – e.g. a person's face, an object, etc. – and all the thumbnails will be automatically updated to include them. Your pages will be much more aesthetically pleasing and your visitors will thank you for it.
Features
Gain full control over your thumbnails
Save time instead of manually adjusting each image
Effortlessly customize the cropping zone by choosing a focus point (i.e. a point of interest), such as a person's face, an object, etc.
Extremely easy-to-use with an intuitive and native admin interface.
Works with your existing images.
The admin panel comes with a Live Preview to easily customize your thumbnails.
Preview your theme's exact thumbnail sizes.
Works with virtually any WordPress theme.
Receive support and upgrades.
High-quality code complete with comments.
Complete documentation for installing and using the plugin.
Crop Modes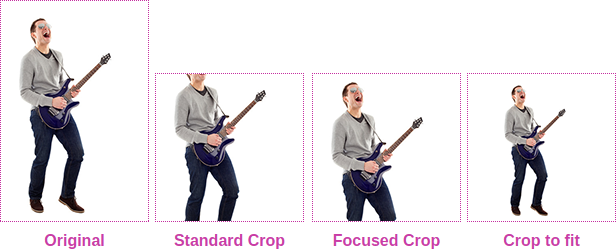 Theia Smart Thumbnails offers 2 crop modes: "Focused crop" and "Crop to fit". With the advanced feature, "Crop to fit", you can adjust the focus point without cropping the image at all. To achieve this it colors in the empty space around the image; it works with any image size or background color, as long as it's uniform.